The Juggler's Manual of
Cigar Box Manipulation & Balance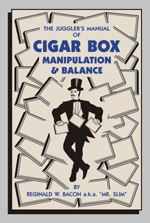 The Juggler's Manual of
Cigar Box Manipulation & Balance
By Reginald W. Bacon a.k.a. "Mr. Slim"
(Newburyport, Mass.:
Variety Arts Press, 1983)
100 pages; illustrated
ISBN: 978-0-9817945-0-1
LOC: 83-050036
Since its initial publication in 1983, when it helped open the floodgates of juggling instructional material, The Juggler's Manual of Cigar Box Manipulation & Balance by R.W. Bacon (a.k.a. "Mr. Slim") has become a "best seller" among juggling books, sought after by professional and amateur jugglers throughout the world. Though modest in size, the book explains and diagrams over 200 challenging and crowd-pleasing moves, stunts, balances, and gags with cigar boxes --- leading to hundreds of further combinations. Authored by a noted touring professional, the book includes the history and background of the venerable props, plus valuable insight on comedy, showmanship, and presentation. "All you need to know to learn and perform with cigar boxes." --- Juggler's World Magazine.
This book may also be purchased from the premiere juggling prop and book dealers, including Brian Dube, Inc., 800-763-0909.
$15.00 (US) includes book-rate shipping in the U.S. (Inquire for additional international shipping cost.)
Payment accepted by PayPal (see "Buy Now" below), check, or money order.
To order by postal mail, send order details, your shipping address, and payment to Variety Arts Enterprises, P.O. Box 489, Newburyport, MA 01950.