The Cranky Editor's Book
of Intolerable Fox Paws
(Oops! Faux Pas!):
Helpful Writing & Style Tips
So You Won't Look Stoopid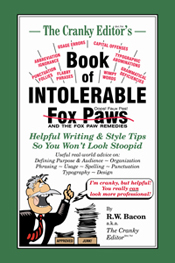 The Cranky Editor's
Book of Intolerable Fox Paws
(Oops! Faux Pas!):
Helpful Writing & Style Tips
So You Won't Look Stoopid
By Reginald W. Bacon
(Newburyport, Mass.:
Variety Arts Press, 2014)
148 pages; indexed
ISBN: 978-0-9817945-6-3
LOC: 2013956190
This compact book is a planning guide, grammar coach, typographic stylebook, graphics tip-sheet, pep-talk, and a plea for literacy rolled into one. The author, adopting the persona of The Cranky Editor, identifies --- in his no-nonsense fashion --- the common transgressions known as the "Intolerable Fox Paws" (faux pas). These are followed by the Fox Paw Remedies, with illustrative examples derived from the author's five decades of real-world experience. The aim of the book: To help motivated business and organizational writers address common troubles faced when preparing writing and printing projects. Is the author really that cranky? Read the book, find out, and along the way learn what you never knew about the craft of writing, editing, and typographic style.
This is the same book as distributed at the author's seminars on writing, editing, typography, and design. For even more comprehensive information about the book and the seminars --- plus valuable editorial and graphics tips for do-it-yourself writers and designers --- visit the dedicated website, www.crankytypographer.com.
$16.00 (US) includes book-rate shipping in the U.S.
(Inquire for additional international shipping cost.)
Payment accepted by PayPal, check, or money order.
To order by postal mail, send order details,
your shipping address, and payment to:
Variety Arts Enterprises, P.O. Box 489, Newburyport, MA 01950.
For online purchase of your single copy of
The Cranky Editor's Book of Intolerable Fox Paws
(Oops! Faux Pas!) ONLY,
click the Paypal button immediately below:
Special Discount:
Get BOTH "Cranky Books" for only $30
(with shipping)!
For online purchase of your DISCOUNTED (16.7%!)
two-book set of
The Cranky Editor's Book of Intolerable Fox Paws
(Oops! Faux Pas!)
AND The Cranky Typographer's Book of Major Annoyances,
click the Paypal button immediately below: