The Juggler's Manual of
Manipulative Miscellanea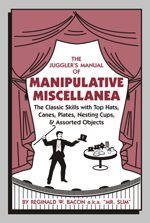 The Juggler's Manual of
Manipulative Miscellanea:
The Classic Skills with Top Hat,
Cane, Plates, Nesting Cups,
and Assorted Objects
By Reginald W. Bacon a.k.a "Mr. Slim"
(Newburyport, Mass.:
Variety Arts Press, 1984)
104 pages; illustrated
ISBN: 978-0-9817945-1-8
LOC: 85-050557
The Juggler's Manual of Manipulative Miscellanea by R.W. Bacon (a.k.a. "Mr. Slim") is the only book of its kind detailing the author's arcane acrobatic juggling and manipulative specialties. A popular reference consulted by jugglers around the world, it has become a "best seller" among juggling books since its publication in 1984. The book explains and diagrams the classic theatrical vaudeville performance skills with top hats, canes, plates, nesting cups, and assorted objects. Authored by a noted touring professional, the book includes history & background, the applied physics of juggling & manipulation, the wide variety of mixed-object & combination stunts, and valuable presentation tips. "A good lesson in entertainment." --- Juggler's World Magazine.
This book may also be purchased from the premiere juggling prop and book dealers, including Brian Dube, Inc., at 800-763-0909.
$15.00 (US) includes book-rate shipping in the U.S. (Inquire for additional international shipping cost.)
Payment accepted by PayPal (see "Buy Now" below), check, or money order.
To order by postal mail, send order details, your shipping address, and payment to Variety Arts Enterprises, P.O. Box 489, Newburyport, MA 01950.