The HABS and the HABs Nots:
Documenting the Architecture of Newburyport
in the Historic American Buildings Survey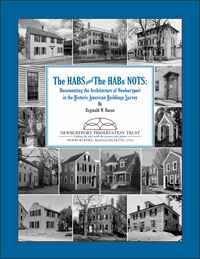 by Reginald W. Bacon
(Newburyport, Mass.:
Variety Arts Press, 2017)
160 pages; hardcover
ISBN: 978-0-9977528-1-6
LOC: 20156920943
The HABS and the HABs Nots, "the newest 'must-have' book on Newburyport architecture" (Northshore Magazine), takes a look back at the Historic American Buildings Survey (HABS), the wide-ranging federal program that advanced historic preservation throughout the U.S. in the 1930s. For viewing pleasure, the large-format casebound volume presents the crisp analog photos and elegant measured drawings for the surveys conducted in Newburyport, Mass., the small coastal city north of Boston known widely for the riches of its authentic 18th- and 19th-century domestic architecture.
The "HABs Nots" Gallery, celebrating the city's smaller historic homes, then takes a look at the future of preservation in the once down-and-out but rejuvenated port city. The city's smaller-footprint historic homes, never the subject of the HABS-like attention lavished upon its Georgian and Federal-style showplaces, fill the city's 750-acre National Register Historic District and contribute to its ambiance. Yet their authenticity is at the greatest risk of being lost to the "march of progress."

For additional context, the book includes chapters on the economic history of Newburyport; the origin and evolution of the HABS program; and other notable efforts to document Newburyport architecture both before and after the HABS surveys. Also included is an illustrated guide to 300 years of house styles in Newburyport, plus a bibliography-by-topic sure to thrill avid history enthusiasts and preservation advocates.
The HABS and the HABs Nots received the 2017 Book Award for Informational Nonfiction from IPNE (Independent Publishers of New England).
$35.00 (US) includes book-rate shipping in the U.S.
(Inquire for additional international shipping cost.)
Payment accepted by PayPal (see "Buy Now" below),
check, or money order.
To order by postal mail, send order details,
your shipping address, and payment to:
Variety Arts Enterprises, P.O. Box 489, Newburyport, MA 01950.