Early Families of Middletown, Connecticut
- Vol. I: 1650-1654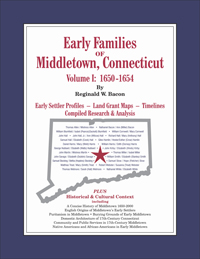 Early Families of Middletown, Conn. - Vol. I: 1650-1654
By Reginald W. Bacon
(Newburyport, Mass.:
Variety Arts Press, 2012)
195 large-format pages; indexed
ISBN: 978-0-9817945-5-6
LOC: 2012949502
Early Families of Middletown, Connecticut - Vol. I: 1650-1654, presents profiles of the 23 families who established the Connecticut River settlement first known as Mattabeseck, plus timelines, land grant maps, and chapters on locally-focused historical and cultural context. Each profile is a survey of what is known about a given family, drawing together vital records, public records, and excerpts from standard works in the public domain. The Middletown-related 17th-century context chapters include the author's research on topics such as English origins, Puritanism, early burying grounds, domestic architecture, public services, and Native Americans & African-Americans in early Middletown. Family names include Allen (Allyn), Bacon, Blumfield, Cornwell, Hall (four families), Hamlin, Harris (two families), Hubbard, Kirby, Martin, Miller, Savage, Smith, Stocking, Stow, Treat, Webster, Wetmore, and White. With four timelines, 13 maps, and 100 photos & illustrations spread throughout 194 large-format pages, the book aims to be an information-packed resource for both descendants and historians interested in the fascinating dynamics of the "second generation" New England settlement. The author, Reginald W. Bacon, is a historian and museum professional of wide-ranging specialties --- a scholar (and retired performer) of early 20th-century vaudeville and circus, as well as a lecturer/presenter on 17th- and 18th-century architecture and domestic life. Vol. II, currently in the planning stages, will include profiles of early Middletown families in the 1654-1700 period --- and more late 17th-century context.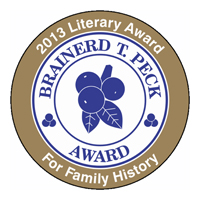 We are proud to report that Early Families of Middletown, Conn. - Vol. I: 1650-1654 was the winner of the 2013 Brainerd T. Peck Award for Family History. The prestigious award --- and cash prize --- were presented to the author by the Connecticut Society of Genealogists at its Literary Awards program in May 2013. Read more about the award and read the CSG book review here.
$50.00 (US) includes book-rate shipping in the U.S. (Inquire for additional international shipping cost.)
Payment accepted by PayPal (see "Buy Now" below), check, or money order.
To order by postal mail, send order details, your shipping address, and payment to Variety Arts Enterprises, P.O. Box 489, Newburyport, MA 01950.