Just a Tot in Tannersville:
The Recollections of a Railroad Avenue Boy
on the Busy Summer Life of the 1950s,
incorporating
A Micro-History of
the Tannersville Four-Corners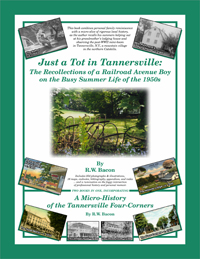 Just a Tot in Tannersville:
The Recollections of
a Railroad Avenue Boy
on the Busy Summer Life
of the 1950s
(Two books in one,
incorporating
A Micro-History of the
Tannersville Four-Corners)
By Reginald W. Bacon
(Newburyport, Mass.:
Variety Arts Press, 2011)
106 large-format pages; indexed
ISBN: 978-0-9817945-2-5
LOC: 2008931627
Just a Tot in Tannersville: The Recollections of a Railroad Avenue Boy on the Busy Summer Life of the 1950s, incorporating A Micro-History of the Tannersville Four-Corners, is a combination personal memoir and local history of the brief post-WWII Armenian resort boom in a small town in New York's northern Catskill Mountains. The author's New England Yankee grandparents ran a limousine service and small lodging house sandwiched between two well-worn Victorian-era hotels. In the early 1950s, these hotels served an Armenian clientele, and author's copiously-illustrated recollections tell of the summers surrounded by the exotic aromas of Armenian cuisine through the days, and the quavering semi-tones of belly dance music far into the nights. As an adult museum professional, the author revisited the old resort town, and explored its fascinating development and history as a destination for New Yorkers seeking renewal in the mountains. The book includes 254 photos and illustrations, 16 maps, endnotes, bibliography, appendices, and index, ... and a rumination on the foggy, dangerous intersection of rigorous professional history and rosy personal memoir.
$40.00 (US) includes book-rate shipping in the U.S. (Inquire for additional international shipping cost.)
Payment accepted by PayPal (see "Buy Now" below), check, or money order.
To order by postal mail, send order details, your shipping address, and payment to Variety Arts Enterprises, P.O. Box 489, Newburyport, MA 01950.