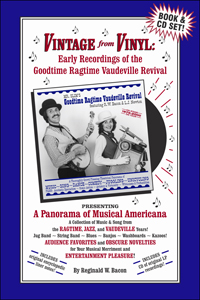 Vintage from Vinyl:
Early Recordings of
the Goodtime Ragtime
Vaudeville Revival
(Book & CD set)
Presenting a Panorama
of Musical Americana,
a Collection of Music and Song from
the Ragtime, Jazz, & Vaudeville years
by Reginald W. Bacon
(Newburyport, Mass.:
Variety Arts Press, 2017)
192 pages; paperback, includes CD
ISBN: 978-0-9977528-0-9
LOC: 20156920942
Jug Band - String Band - Blues - Banjos - Washboards - Kazoos!
Audience Favorites & Obscure Novelties for Your Entertainment Pleasure!
You asked for it, and finally the 1983 vinyl album, A Panorama of Musical Americana, by The Goodtime Ragtime Vaudeville Revival, is digitized and available on CD. And because of the inadequacy of a miniature CD booklet, the encyclopedic documentation of the original album has been expanded to a 192-page 6x9 book packed with even more fascinating context about the songs, instruments, composers, and performers of the early 20th-century ragtime, jazz, and vaudeville era.
From New York to New Orleans, from Boston to Beeville, and most everywhere in between, in the last quarter of the 20th century Mr. Slim's Goodtime Ragtime Vaudeville Revival ("Mr. Slim" and L.J. Newton) regaled audiences with a high-energy theatrical variety show that fused hot jazz, ragtime, comedy songs, musical novelty, eccentric dance, and dazzling acrobatic juggling into a crowd-pleasing contemporary celebration of early 20th-century vaudeville. This book-and-CD set preserves the lively music of this show for lovers of musical merriment everywhere.
- The original analog recordings ... 34(!) red-hot tunes for your musical merriment ... PLUS the rollicking and rumbustious music that propelled the duo's acrobatic juggling artistry.
- Encyclopedic context about songs, instruments, composers, and performers of the ragtime, jazz, and vaudeville years.
- More than 100 biographical sketches of notable performers and composers ... with photos.
- The stories behind the songs and landmark recordings.
- Comprehensive bibliography and suggested listening/viewing.
- Documentation of the crowd-pleasing show that that regaled audiences across the U.S. for 25 years ... with photos.
$25.00 (US) includes book-rate shipping in the U.S.
(Inquire for additional international shipping cost.)
Payment accepted by PayPal (see "Buy Now" below),
check, or money order.
To order by postal mail, send order details,
your shipping address, and payment to:
Variety Arts Enterprises, P.O. Box 489, Newburyport, MA 01950.